There's no denying, Halloween comes with a slew of obstacles for those who are committed to a healthy diet. But with a few tweaks and creativity, you can stay on track while still "indulging" in the holiday spirit. We've compiled our favorite takes on spooky recipes that provide a range of macro and micronutrients to support a well-balanced nutrition plan to battle today's flood of sugar temptation. 
1. Veggie Skeleton Plate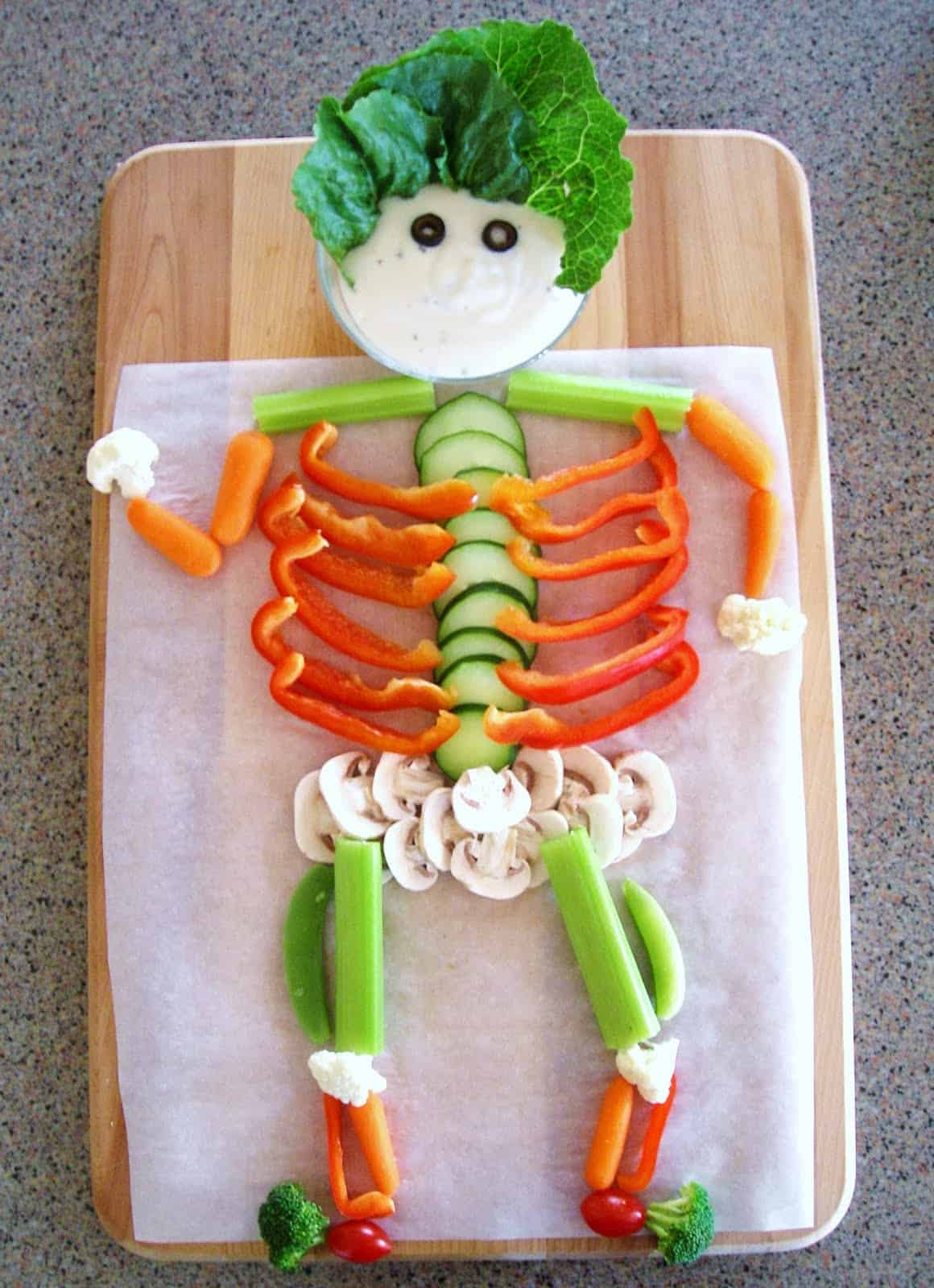 Know your anatomy AND get your veggies. Arrange your choice of vegetables (celery, carrots, peppers, cucumbers, lettuce, mushrooms) in a skeleton pattern for a spooky take on a vegetable dip tray. Original recipe here.
2. Caramel Apples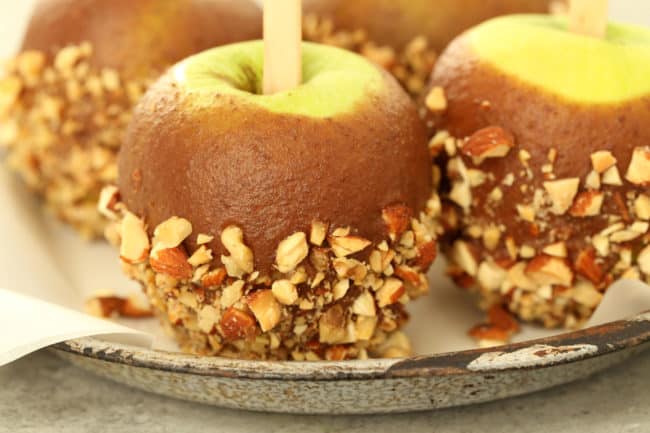 There's nothing like the flavors of apples and caramel to satisfy fall cravings, but don't let the sugar content disrupt your nutrition plan. This recipe uses healthy fats from almond butter, coconut oil, and toasted nuts, and natural maple syrup and dates for sweetener. See the original recipe here.
Ingredients:
4 large apples (Granny Smith or Honeycrisp)
4 craft sticks
Caramel sauce:
10 medjooli dates, chopped
3 – 4 tablespoons almond milk (or another nondairy milk such as coconut milk)
2 heaping tablespoons coconut oil
2 heaping tablespoons almond butter
3 – 4 tablespoons pure maple syrup
1 teaspoon pure vanilla extract
pinch of salt
1 cup toasted nuts (almonds, pecans or walnuts), chopped
Directions:
Line a baking sheet with a silpat or wax paper.  Set aside.
Place lightly toasted chopped nuts in a bowl and set aside.
Add the dates to a small pot.  Cover with water and bring to a boil on the stove.
Reduce heat to low, and simmer the dates for about 10 minutes.  Remove from heat and drain the water from the dates.
Combine all of the ingredients for the Caramel Sauce in a food processor or blender.  Blend until the caramel sauce is smooth,  If the sauce is too thick, add another tablespoon or two of maple syrup and.or non-dairy milk.
Pour the sauce in a small bowl for dipping.
Insert a craft stick into each apple
Roll the apples around in the caramel sauce.
Set the apples on the prepared baking sheet.
Place the caramel apples in the refrigerator for about 10 minutes to set.
Then dip the bottoms of the apples in the chopped nuts.
Return to the refrigerator to set for another 10 minutes or until serving.
3. Ghost Meringue Cookies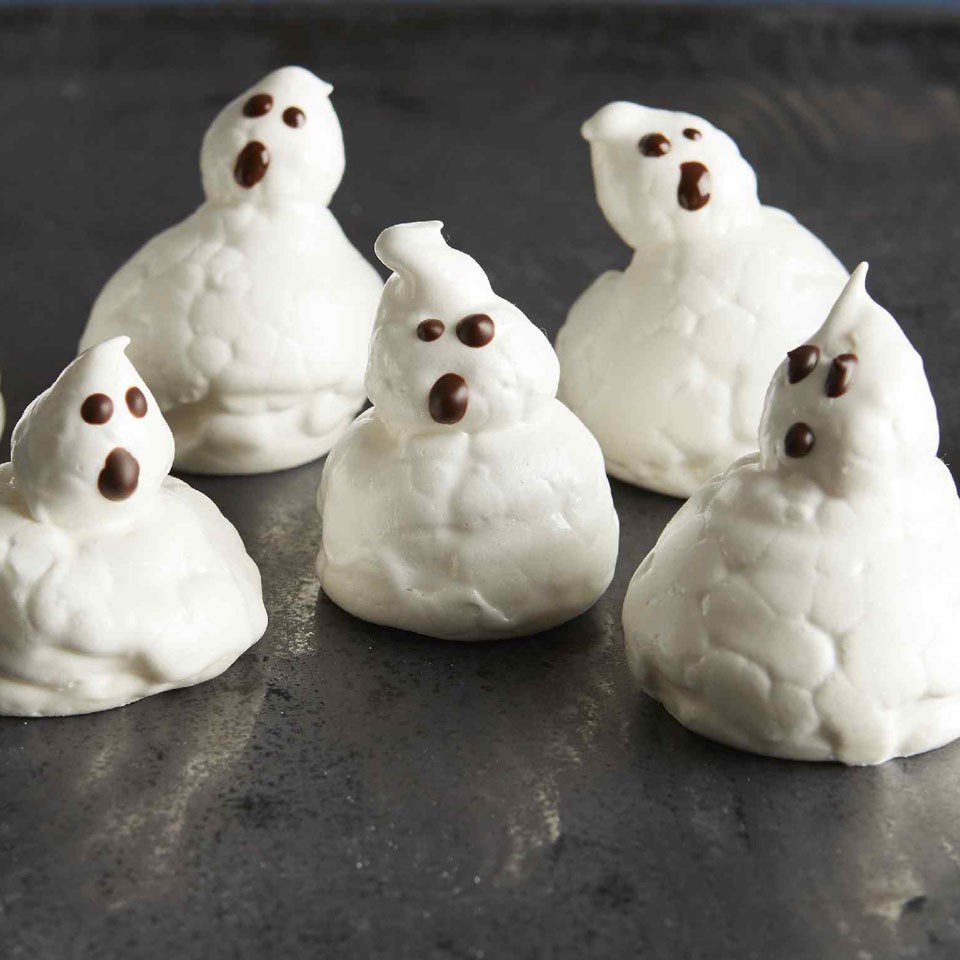 Freak out your friends without scaring their metabolisms. With 17 calories and 0g fat per cookie, these will satisfy every scary sweet tooth (with an impressive display!). Original recipe here.
Ingredients:
3 large egg whites, at room temperature

¼ teaspoon cream of tartar

¾ cup sugar
Directions:
Place egg whites in a mixing bowl. Add cream of tartar and beat with an electric mixer on medium-high speed until soft peaks form. Continue beating while slowly adding sugar, about 1 tablespoon at a time. Beat until the whites are stiff and glossy. Add vanilla and beat for 30 seconds more.

Position racks in the upper and lower thirds of the oven; preheat to 200°F. Line 2 large baking sheets with parchment paper or silicone mats. Fill a 1-quart sealable plastic bag (or a pastry bag fitted with a ½-inch plain tip) with the meringue. Seal the bag almost completely, leaving a small opening for air to escape from the top as you squeeze. Snip off one corner of the bag with scissors, making a ¾-inch-wide opening. Fold the top of the bag over a few times, then gently push the meringue down to the snipped corner. Working with the bag perpendicular to the baking sheet, pipe the meringue into 1½-inch-diameter cookies. Pipe half as much on top to resemble a snowman. Bake the cookies, switching pans from top to bottom and back to front halfway through, until dry and crisp throughout, 1½ to 2½ hours. Transfer the pans to wire racks and let the cookies cool to room temperature, about 15 minutes.

Place chocolate chips in a small microwave-safe bowl; microwave on High for 30 seconds. Stir, then continue microwaving in 20-second intervals until melted and smooth. Place the melted chocolate in a sealable plastic bag. Push the chocolate down to one corner and snip off the tip of that corner to create a piping bag. Pipe dots for eyes and a larger oval for the ghostly mouth. Allow the chocolate to harden before serving.
4. Jack O' Lantern Rice Balls
Need energy for trick-or-treating? Here's a classic take on carb-loading, with a Halloween twist. The rice gets its orange hue by soaking in – yes, you guessed it – carrot juice. Original recipe here.
Ingredients:
1 1/2 cups medium or short grain rice
2 cups carrot juice
1 cup water
1/2 teaspoon salt
Directions:
Boil all ingredients for 15 minutes, or until all liquid is absorbed. Let cool to room temperature.
To make jack o' lanterns, form small golf ball sized balls out of rice, pressing firmly with hands. (Note: If rice sticks to hands, lightly sprinkle hands with water when rolling.)
To form eyes and mouths, cut black olives into shapes and press into the rice balls. To make stem, cut a small triangle of green bell pepper and stick into rice ball on top.
5. Autumn Glow Milkshake
Fuel your muscles after a long workout with a nutrient-dense protein shake – with a few added healthy Autumnal surprises. Frozen cauliflower, sweet potatoes and honey for sweetener makes this a healthy balance of macronutrients for post-workout recovery. Original recipe here.
Ingredients:
1 cup frozen sweet potato, steamed
1/2 cup frozen cauliflower florets
1 cup almond milk
1 tablespoon almond butter
1 scoop of your fave protein powder (vanilla is best)
2 tablespoons honey
A pinch of sea salt
Directions:
Blend everything all ingredients in a high-powered blender until smooth. Add more almond milk as needed. Serve topped with granola, banana slices, fruit, or a drizzle of almond butter.